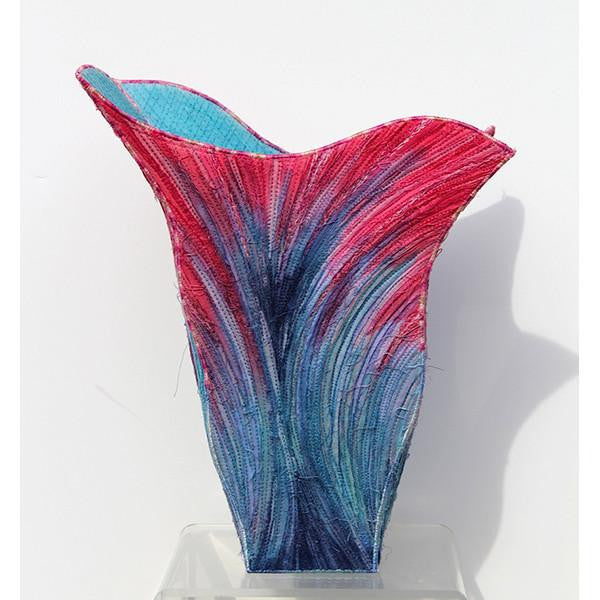 Artist Spotlight: Jackie deRuyter
Jackie deRuyter can't bring herself to throw away scraps of fabric.

"Sometimes I'd finish a project and have all these little bits left over," she said. "They were so pretty, I'd let the piles sit there for awhile. And then I started playing with them."
Jackie is drawn to art with little houses (like Jamie Johnson's paintings and Julie Girardini's sculptures), so her pretty scraps of fabric evolved into quilted, dyed and embellished houses. Like Jamie Johnson's houses, they are whimsical elongated structures with vivid colors and intricate details.


To make them, Jackie lays strips of undyed or lightly-dyed fabric on interfacing or canvas and stitches it together, making a very finely quilted clapboard. For the walls of the house, she quilts the whole piece and dips it halfway into dye, letting it sit overnight. The fabrics she uses are very absorbent, so the dye creates an ombre effect. For other houses, she dyes them by hand with watercolor. The roofs are quilted from assorted black fabrics.

Once the fabric is dry, Jackie goes back in and paints or stamps designs on the walls using various objects. She then stitches more pieces of fabric on top of the zig-zagged base, or do decorative stitching.

She also uses discarded end pieces from other houses. "I can't throw these little ends away," she said. "Once I finish a flat piece, the edge is so pretty I use it as an embellishment."

You can't blame her for not wanting to throw them away. The pieces that form the walls are worthy of framing all on their own. We're hoping she brings some of her quilted and embellished pieces framed in shadowboxes for the gallery.

The houses are all different, depending on what colors she's thinking of and what catches her eye. Jackie's taking a screen-printing class now, so we'll likely see those designs worked into the process down the road.

See more of Jackie deRuyter's fabric sculptures online and in the Orleans gallery