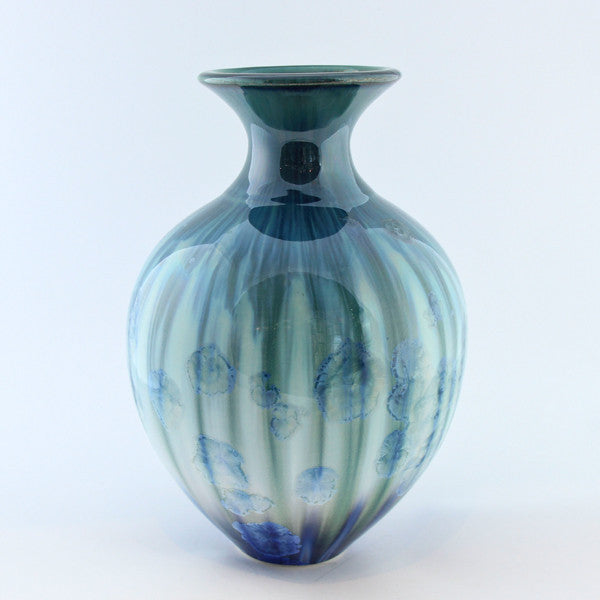 Technique: Crystalline Glaze
People are often curious about the glaze on pieces by Anne Gary, Allison Evans, Flambeaux and others. The surface of their work looks like the ice crystals that form on your window at night.
It's called crystalline glaze, and it's done with specially formulated glazes which encourage the growth of crystals. To allow for crystal growth, the heat in the kiln is increased and then lowered very slowly. This makes it sound much simpler than it is.
Anne Gary says crystalline glazes "present an artistic wedding of chemistry and nature. The glaze on these pieces, when fired precisely, grows floral-like crystals. Due to the lengthy time required to master the glaze, the great care that must be taken in formulating, firing and finishing, and the low success rate, very few potters today use this glaze. I find the beauty, depth and fluidity they create to be well worth the challenge." (
see more
)
For Alison Evans, the crystal effect is a perfect match for the natural shapes of coastal life that inspire her dinnerware and tabletop accessories. Hand molded and hand glazed, each piece is unique. (
see more
)
Bill Campbell & Ken Follett (Flambeaux) started making crystalline glazes about 10 years ago. Because of the freedom to experiment more in color and crystals, Bill says it's become his favorite glaze.
The crystals form in the kiln when the materials and the firing cycle is perfect, developing during a heat "soaking" and cooling cycle. Sometimes the surface is covered with tiny crystals, other times there are big, single floating ones.
"My motive in making pottery is not terribly noble," Bill says. "I merely try to cause a little celebration in everyday living. You can't imagine what I feel when my customers tell me how much they enjoy using one of my pots in their daily routine. When designing pots, I am always aware of the possibilities and limitations of the wonderful/dreadful layered glaze I employ. An enigmatic mistress, it is very fussy about the body it resides upon. It often crawls, blisters and crazes and the color isn't always reliable. Though demanding, it is just too vibrant and exciting to simply dismiss as too troublesome."(
see more
)