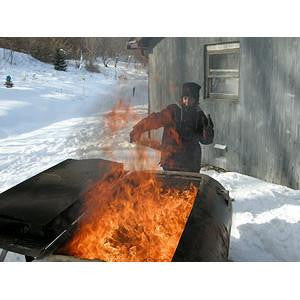 Technique: Raku
A technique we're often asked about here at the gallery is raku.
Literally translated as enjoyment, ease or comfort, traditional raku is the Japanese pottery used in the Japanese Tea Ceremony - most often in the form of tea bowls.
In Western-style raku, pottery is removed from the kiln while red hot and placed in combustible materials, producing a reduction atmosphere which effects the colors in glazes and clay bodies.
(To see what comes out of the flames shown above, go to Jan Jacque's page !)
Some of these effects are metallic surfaces, crackled glazes, and black unglazed clay. You can see the crackled surface on Bob Green's pot, below. When Bob takes his pots out of the kiln, he puts them in a nest of hardwood chips. The heat of the pot ignites the wood on contact and the pots begin to cool in the smoky fire. The pots eventually are completely covered with smoldering wood chips. Occasionally the mounds are uncovered, exposing the still very hot pot to the cool air, and then they are recovered with dry wood chips. By doing this, a crackle pattern forms in the glaze surface. This pattern is only on the glaze surface and does not damage the pot.
While the crackling does not damage the pot, raku-fired ware is fragile, porous, and generally not intended for functional use. A vase, for instance, would absorb any water you put in it.
Of course, it depends what kind of function you have in mind. People have found Judith Motzkin's flame painted vessels make beautiful urns.
"I have made these pots, with their woven inlay lids and smooth smoky surfaces, since 1982," Judy says. "I did not set out to make cremation urns for ashes, though I am honored that they have found this function. They are fullness of form, about nature's random beauty, about the hand and the heart. They are about the deep woods, secluded places where light sneaks in. They are part of a larger body of work in a technique that has roots in American Indian pottery history."
You can see the metallic surface in Nancy and Tom Giusti's raku plaques and vessels. Below is a detail (we think it's gorgeous so we wanted you to see it up close):
There are many, many applications of raku, from Jan Jacque's clay and wood vessels to Ellen Clancy's raku fired stoneware vases. 
"How magical it is that this pliable and responsive medium can permanently bear witness to the essence of that single experience of creating." - Ellen Clancy
More resources:
http://www.ceramicstoday.com/articles/branfman_raku.htm