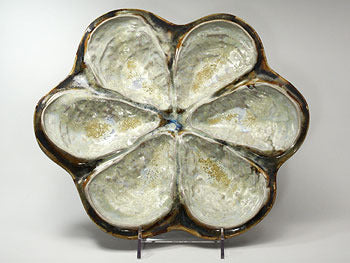 Abalone & Tortoise Traditional Oyster platter
$152.00
by Alison Evans
Artist Alison Evans transforms the natural shapes of coastal life into dinnerware and tabletop accessories. Her work is hand molded and hand glazed, making each piece unique. Alison graduated from the Rhode Island School of Design
Traditional Oyster Platter
dimensions: 13"x13"x1¼"
glaze: Abalone & Tortoise

This platter is essential to any oyster lovers dish collection. It serves six oysters on the half shell; the grooves help keep the shells upright so precious juice doesn't spill from the shell. The platter is thick and can be placed in the freezer to chill so the messiness of ice can be avoided.