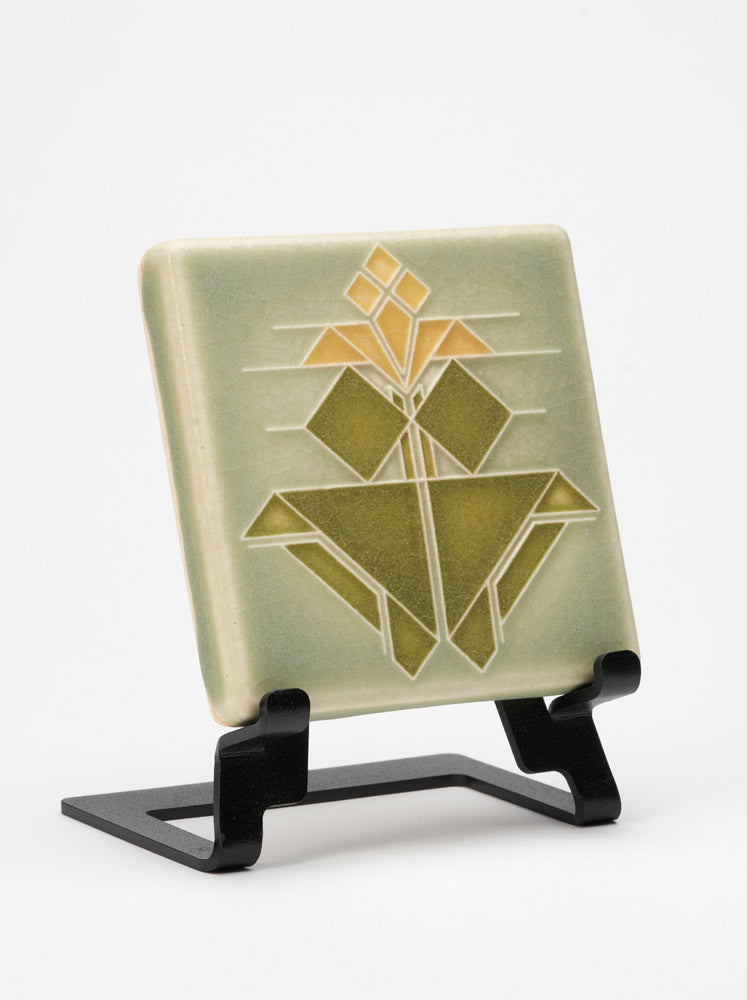 Avery Jade Turquoise 4x4 Stand sold separatley
$50.00
Maker :: Motawi Tileworks
4" x 4"
Motawi Tileworks was founded in 1992 by Nawal Motawi, who started making tiles in her garage and selling them at the Ann Arbor Farmers Market next to the rutabaga sellers. Nawal's motto: It's fun to be good! (at what you do)
Frank Lloyd Wright (1867–1959) is recognized worldwide as one of the greatest architects of the 20th century.
Built in 1907 in Riverside, Illinois, the Avery Coonley House is a grand Prairie-style residence designed by Wright for Avery and Queene Coonley. As was the case with all Frank Lloyd Wright buildings, the home's exterior and interior were envisioned and executed as a unified whole. In addition to the main house, the estate included sunken gardens, a gardener's cottage and a coach house.
Wright's drawing of a tile frieze for the Coonley House was the basis for Motawi Tileworks' 4x4 Avery Tulip art tile. While the drawing was never executed on the house, the design remains an early example of Wright's geometric nature abstractions.
Motawi tiles are striking art pieces and installation accents. Each tile is made by hand and with heart in Ann Arbor, Michigan. We embrace variation and handmade beauty: Our time-honored methods produce a nuanced range of color with depth and translucence.

Actual Tile Size: Approximately 3 7/8" x 3 7/8". As each Motawi tile is crafted by hand, dimensions may vary slightly by up to 1/16".

Tiles are 5/8" thick and have a notch at the back for hanging.
®/©/™ Frank Lloyd Wright Foundation. All rights reserved.