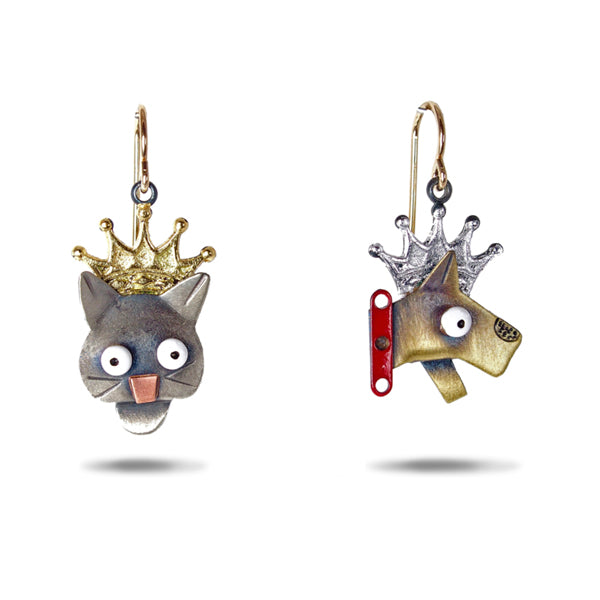 Reigning Cats And Dogs Earrings
$100.00
Maker :: Chickenscratch
Not everybody recognizes royalty puns as a noble pursuit, but we think they rule! These whimsical mismatched earrings feature a nickel silver cat with a gold leaf brass crown and a brass dog with a silver leaf brass crown dangling from gold fill ear wires.
Details:
Materials: Brass, nickel silver, gold fill, gold leaf, enamel
Measurements: Approximately 1 3/8in H x 5/8in W x 1/8in D
Cat earring is made of nickel silver with crown made of gold leaf over brass
Dog earring is made of brass with crown made of silver leaf over brass
Enamel paint accents
Gold fill ear wires
Intentional asymmetry for an eye-catching look
Whimsical and punny!
Handmade by a small independent artist
Chickenscratch is a studio jewelry company founded in 1988 by the husband and wife team of Lisa and Scott Cylinder. 

Most Chickenscratch jewelry is made from base metals (brass, copper, nickel silver and sterling silver) sheet and wire that is hand cut and manipulated, mixed with various plastics and found objects. Each piece has been joined with silver solder for strength and durability.