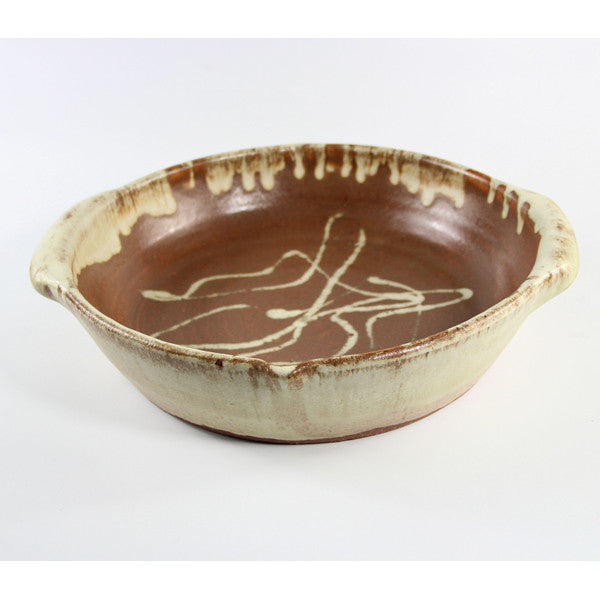 by Terry Silverman
12" x 3"
Handmade by Terry Silverman at The Pottery Works in Fitzwilliam, New Hampshire, this cookware suits the needs of everyone in the kitchen, from the gourmet chef to the everyday cook.
 With a lug on each side, these low bowls are extremely easy to handle, whether you are taking them in and out of the oven or serving from them at the table. Excellent for any open casserole, these flameware pieces are also great for macaroni and cheese, kugel, corn bread, scalloped potatoes, shepherd's pie, chicken bouillabaisse, or anything that requires open, deep-dish cooking. Bake and serve desserts such as blueberry buckle or a fruit crisp in the same vessel.
These pots provide an even heating surface and continue to hold heat long after they have been removed from the oven or stovetop. Like most cookware, you will want to use a cooking medium such as oil, butter, or another liquid.

Never use your flameware dry. After food has been removed, quenching hot pans with water will make cleaning a breeze. Pots are diswasher safe and can be cleaned with metal pads or utensils; they are very durable and almost impossible to scratch.