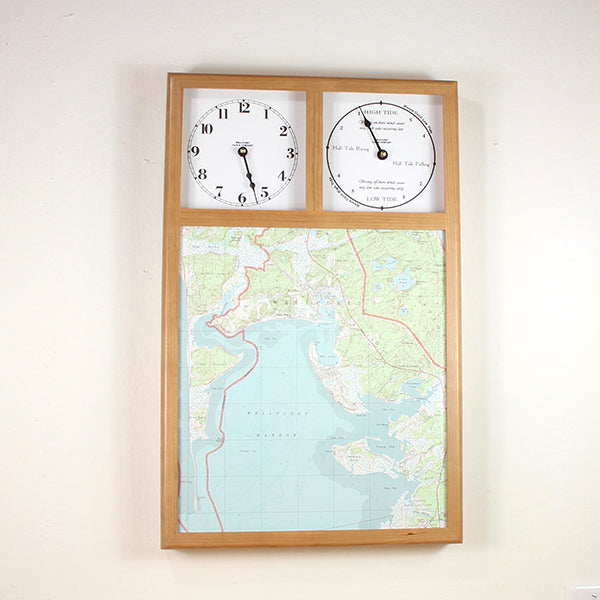 Map Clock with Time and Tide
$275.00
 by Wellfleet Clock Company
Jeff Pozgay
Dimensions  13in w x 21.5in h
Time & Tide  clocks are made in cherry, with a choice of Arabic numerals.
The Wellfleet Clock Company was founded in 1994 with the goal to keep alive the spirit of classic American clock design. It is not our desire to replicate clocks of the past, but to contemporize familiar styles. Each Wellfleet Clock Company line is individually handcrafted in a small Wellfleet workshop using traditional joinery techniques. The designs for our clocks are influenced by famous 19th century American clockmakers such as Seth Thomas and the Ithaca Clock Company. Our Shaker style clocks are representative of the clocks made by Isaac Youngs of the Mt. Lebanon Shaker community in the mid-1840s. 
All of our clocks feature hardwoods, exposed splined miters for added strength, and environmentally safe water based lacquers. We are also proud of the fact that all the materials in our clocks, except the clock movements, are purchased from fellow Cape Cod businesses. The precision quartz clock movements we use are made in the United States. Our clocks do not ring, chime, or gong... they just quietly and accurately track the time.