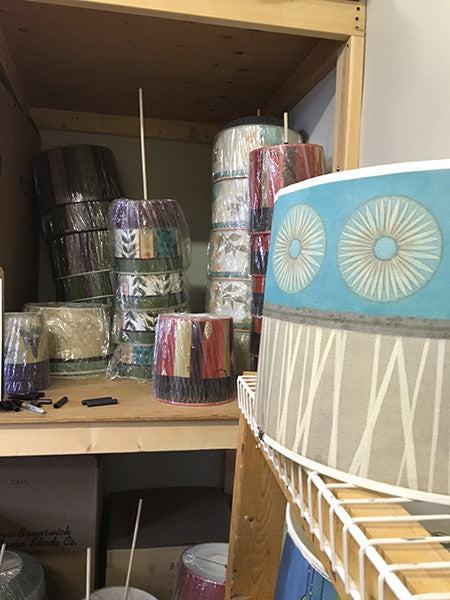 Studio Visit: Ugone & Thomas
We dropped in to see Janna Ugone and Justin Thomas when we were in the neighborhood, and were lucky enough to meet their latest addition - a lamp shade binding machine.
The binding machine was made in the U.S. in the 1950s, and was completely restored for Ugone & Thomas. 
"We use all natural materials (no solvents or synthetic materials) to hand bind the shades," Justin said. "Once we bind the lamp shade material to the steel frame we trim and finish the shade by hand.
After it sits for a day they coat the shade with a UV protective matte finish and hand paint the trim. Each shade is then signed, dated and hallmarked. 
"From incorporating reclaimed materials to merging traditional artist processes with innovative technology, we continually strive to present fresh ideas", says designers Janna & Justin. The results are distinctive, multi-dimensional table and floor lamps, pendants, clocks, mirrors and accent tables that transform space and stir the imagination.