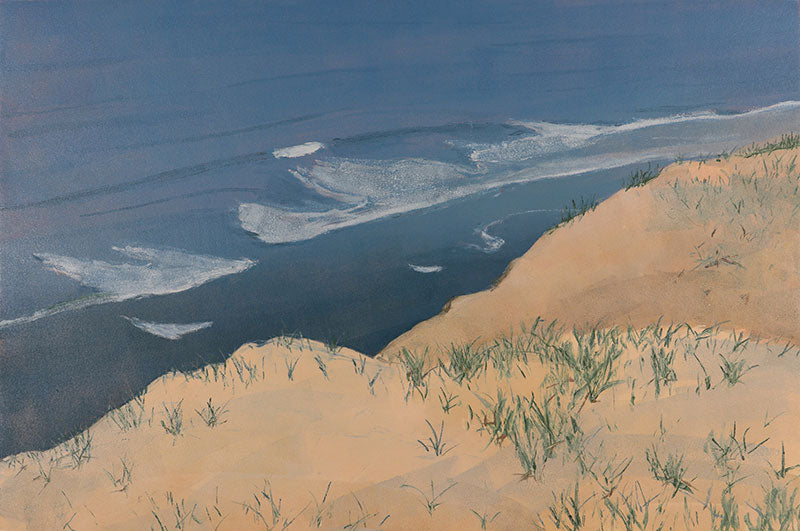 Artist Spotlight: Joyce Zavorskas
"My recent paintings and monotypes investigate erosional landforms. The activity of erosion presents images of natural disorder," Joyce Zavorskas says. "Similar to our contemporary culture and circumstances, under siege from wars, recession, and political discontent, the forces of nature disrupt the stoic harmony of familiar landmarks. Wind, rain, gravity and the rising seas pound against the sand and clay cliffs, creating intriguing rhythms and patterns, but hastening their imminent demise."
She says her new monotypes examine ubiquitous quirks found in nature, and fix in time the face of the beloved. We can never hike the dunes in Provincetown without seeing her paintings everywhere we look. 
Monotypes are unique paintings transferred to paper using a manual press - a technique used by artists from William Blake to Michael Mazur. 
"Hiking to remote areas to sketch and paint on site provides my initial reference material, edited to essentials in the studio," she says. "Retreating to the studio provides distance from observation, an opportunity to edit and explore with more diverse materials, brushstrokes, brayers or wax." Layered monoprint plates are uniquely inked and wiped, letting go of specificity and allowing pigment to create the work. 
Joyce creates monotypes and etchings in her Orleans studio. You'll also see her painting plein air in the summer. She has given demonstrations at Left Bank Gallery, and offers printmaking workshops throughout the year at various locations, including the Art Complex at Duxbury, South Shore Art Center in Cohasset, Provincetown Art Association and Museum, Creative Art Center in Chatham, and Zavorskas Print Studio. 
See new work by Joyce Zavorskas at Left Bank Gallery
Above:
"Eternal Return"
by Joyce Zavorskas
26.5" x 34"
monotype
"Beach Place"
by Joyce Zavorskas
monotype
17.25" x 13.5"