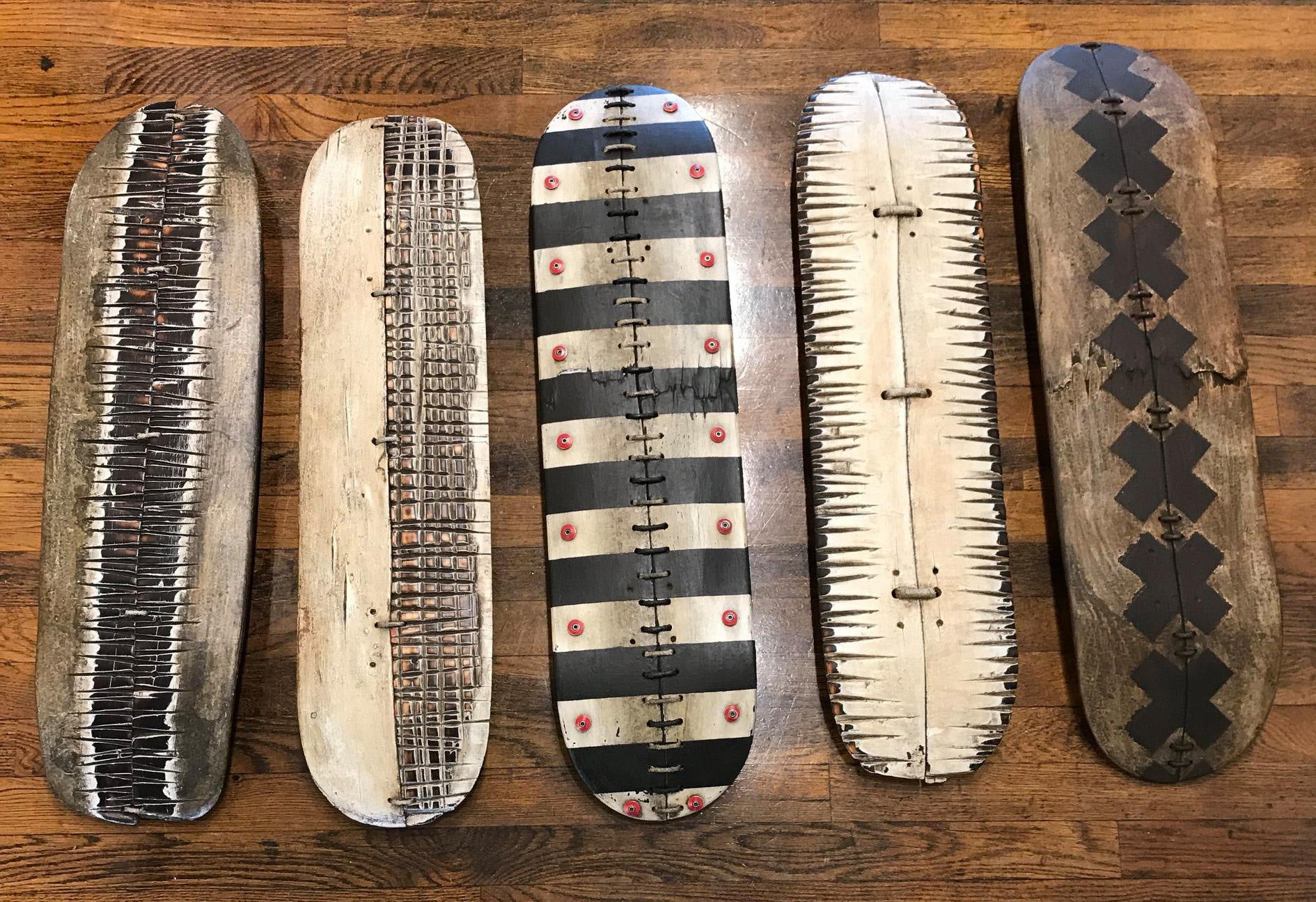 George Peterson carves it up
We started carrying George Peterson's bowls two years ago and are fairly smitten. We're not the only ones, by the way:
This year in addition to his bowls we have his skateboards – and they are fabulous. (See image, top)
George Peterson Lingo Series detail
George says, "My aim with this series is to celebrate the ICONIC nature of the skateboard. As a person who obsesses about all the different wood species, I have come to see these broken and banged up pieces of plywood as a type of exotic material. Not because it's rare or expensive, but that it's been processed in a very unique and specific way. Creatively speaking, this series owes a lot to the culture and industry of skateboarding. Like making art, skateboarding is a very creative and personal outlet. It is also inherently destructive; boards get worn down, cracked and broken. It is a subtle and unintended type of wood sculpting.
"This series is about layers: it speaks of the utility and beauty of wood, the culture and byproducts of our modern world and the visual/textural language I've developed through my work as an artist."
Born in Long Beach, California, George Peterson is a self-taught woodturner and sculptor with a full-time studio practice since 1992.
George Peterson got an early start in art by carving his initials into a wooden picnic bench at age 8 - and has gone on to carve his initials into thousands of original works in wood. "Each time I sign a piece, it's a reflection of that early self expression and ties me back to that basic urge to leave a mark," he says,

In 1998 George moved to the mountains of Western NC to build a home and start a family. His work in solid wood is made exclusively from local material. "I like to get wood from the people who cut it and to know the stories behind where the wood comes from. Like people, trees tell stories about where they are from and how they lived. I feel fortunate to make my living exploring this rich, beautiful and useful material."

"My sculptures are a combination of machined and natural surfaces. I let the structure of the wood and the marks left by the tools define much of the character in my forms."
White bowl - footed with striped texture
By George Peterson of Circle Factory
14" diameter, 4" high
See George's current work here
Public collections
Asheville Art Museum
Philadelphia Museum of Art
Minneapolis Museum of Art
Mint Museum of Craft + Design
Boston Museum of Fine Arts
Wustum Museum
Woodturning Center
Publications
Popeye Magazine, Japan, August 2014
Carolina Home and Garden, Fall 2014
Casa Brutus Magazine, Japan, March 2010
Shy Boy, She Devil, and Isis, MFA Publishing, 2007
Pursuing Excellence, The Center for Craft, Creativity and Design, 2007 
Connections: International Turning Exchange, Wood Turning Center, 2005
500 Wood Bowls, Lark Books, 2004
"New York Times Magazine," Home Design, Fall 2003
"American Craft Magazine," October/November 2002
Scratching the Surface: Art and Content in Contemporary Wood, Guild Publishing, 2002 
Challenge IV-Roots: Insights and Inspirations in Contemporary Turned Objects, Wood Turning Center 
"American Craft Magazine," February/March 2000
"Turning Points," Summer 2000
"Cote Ouest," February/March 2000
Style Brut, Flammarion, 1999