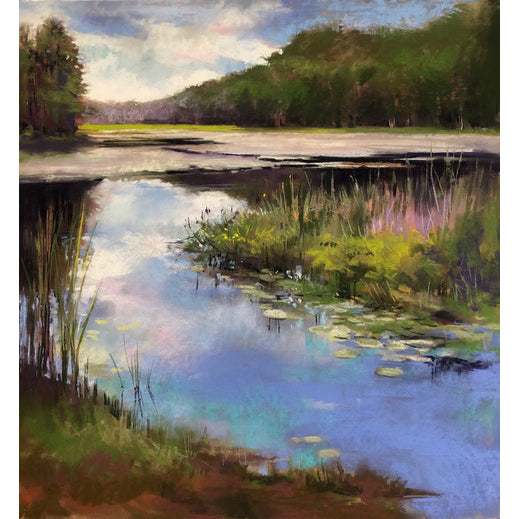 Cindy Crimmin, 2020
CINDY CRIMMIN
25 Commercial Street, Wellfleet
8 Cove Road, Orleans
Above:
"Napping Place"
pastel
30"x30"
Like most artists, I started drawing before I could write.
"Here Fishy"
pastel
25.5" x 25.5"
The act of painting has led me to see and to appreciate the world around me so much more than I ever realized. Whether I'm painting children playing, lemons and a silver bowl or light falling through trees in a New England landscape, my subject is the same. The light, texture, and forms that draw me to landscapes and still life are enhanced in my portrait work by the gesture and sparkle that light the human face. It is the process that enriches my life. If others enjoy the results, I am content.
-Cindy Crimmin


SHOWS AND AWARDS
Pastel Painters Society of Cape Cod: For Pastels Only 2013, 2014, 2015 (Joan A. Ledwith Award), 2016, 2017 (Dakota Arts Award)
Pastel Painters Society of Cape Cod: Signature Members Show 2017 (Award of Excellence)
International Association of Pastel Societies Annual Shows, 2012, 2014, 2015, 2016
Connecticut Pastel Society: Renaissance in Pastel, 2014, 2015 (Madison Art Society Award), 2016
Academic Artist Juried Show, Vernon, Connecticut 2015
Bennington Art Center Juried Show 2014  
"Backyard Splendor"
pastel
10" x 16"
And visit us! We are open 10-6 daily in Wellfleet and Orleans.