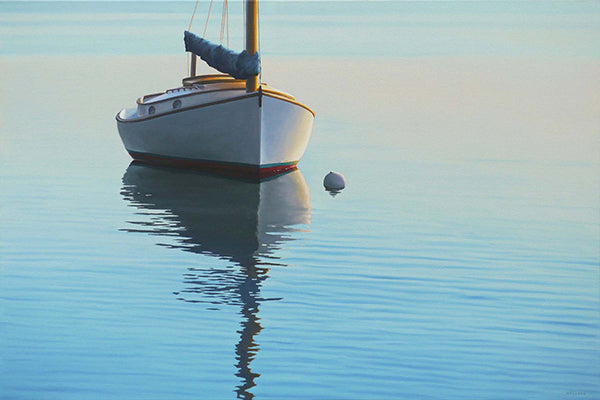 Jim Holland Virtual Opening
JIM HOLLAND: New Paintings
July 4-17, 2020 | 25 Commercial Street, Wellfleet
A beached catboat or light slanting on clapboards and through windows, these are simple forms I find endlessly fascinating in how different light affects the mood.
-Jim Holland

Since vacationing on Cape Cod in the summer of 1978, the shore has been the center of my work, examining subjects from Maine to Key West.
There is something about places where the land meets the ocean. Light and space are expansive, colors can be brilliant or nearly monochromatic, and forms are given a stage to take on a new significance.
Whether in oils ore watercolors, I'm always looking for my response to the solitude and stillness of the shore. I am self-taught, and my approach to color and form has been influenced by American painters like Edward Hopper, as well as photographer Joel Meyerowitz.
My work has been exhibited throughout New York and southern New England in various one-person and group shows, and is included in numerous private and institutional collections in the United States and Europe. -Jim Holland


Above:
Early Morning Mooring
oil on canvas
24" x 36"
And visit us! We are open 10-6 daily in Wellfleet and Orleans.