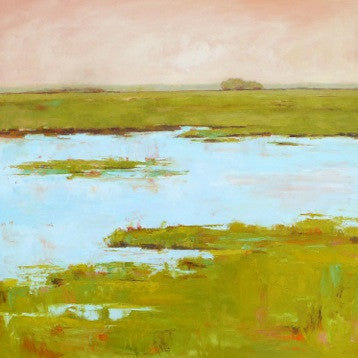 The creative world of Denise Zompa

"Creating was always a part of our lives," says plein air artist Denise Zompa of her childhood. Growing up, she and her brother and sister had the best Halloween costumes – things like robots made from Mylar and cardboard boxes, with flashing lights, built by their inventive parents. On Christmas Eve, they'd have a huge family party, with a contest making a themed project from a bag of craft supplies. They'd all work for weeks on their creations, vying for prizes in various categories.

So it's not surprising that Denise entered local art shows in high school, and majored in painting and elementary education in college. For 30 years she taught art, and loved it. "You learn so much about inhibition and spontaneity from their young spirits," she recalled. "When my own children were little, watercolor was my medium of choice for its ease in the house" (and probably on the house).



When Denise returned to her own painting she took classes at Rhode Island School of Design and the Newport Art Museum, renting a studio space near the harbor in Bristol, RI, where she grew up.

Her current studio is in Tiverton, RI, which she describes as "a sweet little rustic cottage with a couple of rooms that open up into each other." Mirroring the creative atmosphere of her childhood, she shares the space with an abstract oil painter, an acrylic painter and a pastelist. "It's an inspiring variety of styles and palettes," she said. "We rely on each other for advice and truthful critiques."


She also finds inspiration in the community of artists as a member of the Westport Art Group in Westport, MA, exploring new places to paint outdoors in the pastoral fields and beautiful marshes the area provides. "I've learned so much from that community of painters including many who are in their eighties and still plein air painting."

"I love nature and being outdoors," she said. "When I discovered plein air painting, this was the absolute perfect mix! Painting outdoors is so important for a landscape painter. It informs color, atmosphere and sense of place. The smaller pieces done plein air are inspiration for larger studio work. In the studio, I have the freedom to reimagine a place. It becomes less about a specific location and more about the essence of a marsh, a field, a beach.  I want the viewer to feel it is their own special place. I want them to feel that balance of tranquility and promise; a peaceful feeling that makes them want to be in that place."



The studio pieces become more invented, as she mixes pinks, magenta, violets and orange into the marsh grasses or the warm sand at the beach. Working larger also helps her get looser - using brushes, palette knife, and even rubber spatulas to move the paint.

Her work has been gravitating more towards abstract landscapes. She's not sure where that path will lead, but as she says, the journey is half the fun.